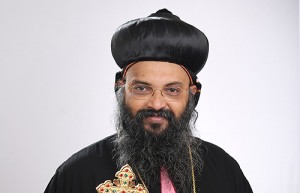 H. G. Abraham Mar Epiphanios Metropolitan
His Grace was born on 17th September 1960 as the son of Mr. V. A. Oommen and Mrs. Gracy Oommen. His Grace is a member of St. Mary's Cathedral, Malaysia. His Grace had his education in Pathanamthitta Catholicate School and College, the Orthodox Theological Seminary and stands with his M.Th. degree from Serampore University. His Grace was ordained as deacon and Priest in 1986 and 1987 respectively; on 31st March 2002 His Grace became Ramban. His Grace has spent a long time in the Ashrams in Parumala and Madras from 1990 to 1996. His Grace served as Vicar of St. Thomas Cathedral from 1996 to 2002. Thereafter His Grace served as the Manager of Bishop's House, Madras in 2003 From 2004-2006 His Grace was served as the Manager at Parumala Seminary and  Devalokam Catholicate Aramana.
His Grace is serving the Mavelikara Diocese as its Metropolitan.
Address: Theobhavan Aramana, Thazhakara – Post, Mavelikara, Kerala - 690102
Mob: 9447908814
Email: marepiphanios@gmail.com