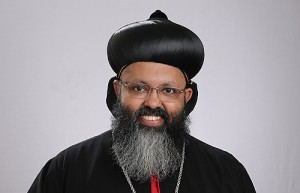 H.G. Dr. Geevarghese Mar Yulios Metropolitan
His Grace was Born to late Mr P V Pavu and Mrs K V Anna on May 17, 1967, His Grace hails from a letter loving family, the famed Pulikkottil family from Kunnamkulam. He is the member of St Mathias South Cross Parish, Kunnamkulam and author of over 10 publications.
His Grace has a post doctoral research from the Friedrich-Alexander University of Erlangen (Germany) adding to diplomas in Sanskrit, Hebrew, Greek, Latin and German languages.
After his consecration as Bishop on May 12, 2010, Fr Geevarghese Pulikkottil Ramban became Pulikkottil Dr. Geevarghese Mar Yulius Metropolitan. As a priest Rev Fr George Pulikkottil (Pulikkottil Achen) from 1992 served in different parishes under dioceses of Kunnamkulam (home parish), Kottayam, Madras, UK & Europe, Canada and the Diocese of America.
He was lecturer and professor of religion and philosophy at Orthodox Theological Seminary Kottayam and Nagpur from 1994. He also served as the bursar of St Thomas Orthodox Theological Seminary, Nagpur. Other posts relate to serving as Registrar of Divyabodhanam, Programme Secretary of Sophia Centre, the Kochi-based centre for inter-religious dialogue and cultural studies, as resource person for oriental studies, Associate Secretary of the Kerala Council of Churches, member of the Association of Professors and Research Scholars in Germany for Study of Religion since 2002.
H.G. Dr. Geevarghese Mar Yulios served as the Metropolitan of Ahmedabad Diocese from 2010 to 2022. From 2022 November onwards, His Grace is serving as the Metropolitan of the Kunnamkulam Diocese.
Address: Bishop's House, Arthat, Kunnamkulam - 680 521
Ph:  9447383931
Email: hgyulios@gmail.com, mockkmdiocese@yahoo.in