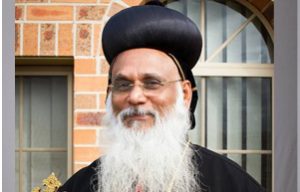 H.G.Dr. Joseph Mar Dionysius Metropolitan
His Grace was born on 15th  June 1956 as the son of Mr. T. V. Mathai and Mrs. Aleyamma Mathai of Thekkil Kandathil family in Valanjavattom, Thiruvalla and a member of St. Mary's Orthodox Church, Valanjavattom in Niranam Diocese.Mar Dionysius became a member of Mount Tabor Ashram on 15th July 1971. He stood first in the Master's Degree Exam of Madras University and won the "Chithanass" award and the gold medal in 1981. His Grace took the M. Phil, Ph. D. Degrees from the University of Kerala and his B.D. degree from the University of Serampore. His Grace was ordained deacon in July 1980. He was ordained as a priest on 4th December 1985. He got training in Christian leadership from the Haggai International Institute Singapore in 2005.
 His Grace had been teaching in the Dept. of Zoology at St. Stephen's College Pathanapuram. From 2000 .His Grace had been the director of the research department of Zoology. His Grace won the "Man of the year" award from American Biographical Institute in 2003 and St. Berchman's award for the Best University Teacher in 2008. His Grace is ever active as a guide and mentor in meditation, preacher, researcher and ecological theologian.
Address: Bishops House, Cross Junction, Kollam, 691 001
Mob: 9425553147
Email: josephdionysius@gmail.com