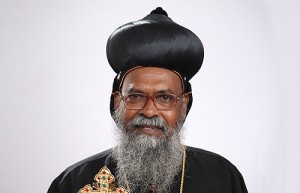 H.G. Yakob Mar Elias Metropolitan
His Grace was born  on 24-02-1953 as the son of Chackaleth Viruthiyath Kizhakkethil Mathai and Mariamma. His Grace is a member of St. Elias Orthodox Church, Budhanoor, Chengannoor Diocese.  After taking his Masters Degree  from      Kerala University, he joined the  Orthodox Theological Seminary, Kottayam, for theological studies. From the Orthodox Theological Seminary, Kottayam, he took Graduate Degree in Sacred Theology (GST) and the Bachelor of Divinity (BD) degree at the Senate of Serampore University.
His Grace took several key positions of the church Position held – Manager, Mar Elia Chapel, Sasthamkotta, Director, St. Basil Bible School, Vice President, Orthodox Christian Youth Movement, Secretary, Kottayam Diocese, Member, Ecumenical Relations Committee.Member, Mission Tranining Centre, Member, Mavelikkara, Orthodox Bible Preparation Committee, Member, Malankara Sabha Editorial Board, Member, Oriental and Anglican Forum.
He is elected as the  Metropolitan candidate on   17th February at the Malankara Association held at Sasthamkotta. He is consecrated as Metropolitan on  12th May 2010 at Mar Elia Cathedral, Kottayam.His Grace  is serving the Brahmavar Diocese as its Metropolitan.
Address: Mount Horeb Bishop's House, Balikashram Road, Kankanady, Mangalore - 575 002, Karnataka, India
Email: metropolitanelias@yahoo.com Ph: 0824- 2013157, 09483530018